One of my goals for today is to stop writing "2009" on the copyright of my new photos.
Took me about ten minutes to write the above sentence. I've got a kitty who has figured out that if he walks around on my computer keyboard, he gets all kinds of attention.
CHECK OUT THESE 360-DEGREE PHOTOS
(thanks for the links, Dad!)
At
www.utah3d.net
Underneath Double Arch, Arches National Park, Utah
The new home of the O C Tanner Jewelry Store. Originally home to the Salt Lake Library, and later the Hansen Planetarium, it has been skillfully remodeled and restored.
Atrium of the Salt Lake City Library
The Cathedral of the Madeleine. This beautifully restored building is celebrating it's 100th anniversary.
The Maple Bench area of Payson Canyon
How cool are those!
BRACELET GIVEAWAY
So, for multiple reasons, I'm going to give this unsaleable bracelet away.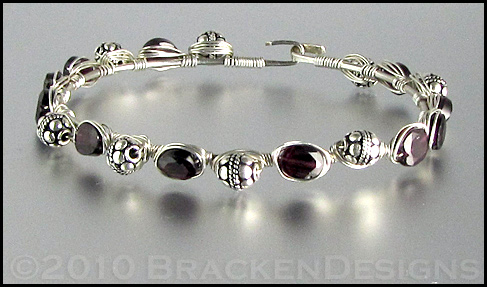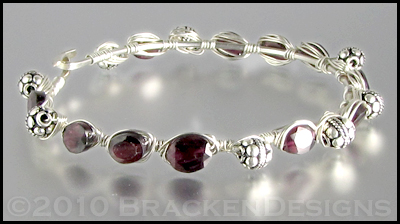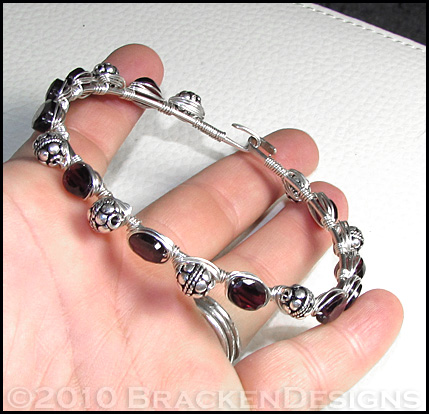 TVMHA 18AA's
The boys (Gabe's team at a tournament in Riverside at the moment) are doing well. They've won all four of their games so far. This morning they've got the semi-final and if they win that, they'll have the championship game at 3:00… although that kinda sucks because that would mean they don't get to start the 7-hour drive home until around 5:00.
Update: They won their semi-final game but lost the championship game in double overtime. They're on their way home now.
NEW JEWELRY (ALMOST)
I'm finally trying to get some new stuff up. It's been awhile. I'd like to fit in listing AND creating.
Here's a sneak peak to what's coming up this week…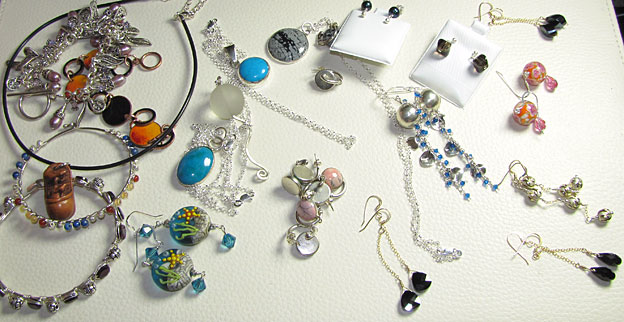 FUSING FINE SILVER
Last week I found out, much to my chagrin, that all that fine silver wire I bought for fusing was not going to work under my current conditions (a micro torch). I tried 12 gauge first… nada. Then 14, 16, 18… eek! Yes, need more heat. Apparently 2500 degrees just isn't enough to melt even 20 (I think that's as far as I went). Well, I got ONE of the 20g jumprings to fuse, but spent five minutes torching its twin and nothing… absolutely nothing (except a fire-brick that took forever to cool back down. Ha ha ha!
To see my first fusing experience, go to my project blog:
GOING GREEN JEWELRY
.
I ordered a few necessities today… Penny Brite Copper Cleaner and Liver of Sulfur.
THREE DAY WEEKEND DONE ALREADY!?
Watched a lot of movies this weekend (comparatively speaking). Saw Star Trek, Julie and Julia, Milk and Pearl Harbor.
Did a little bit of jewelry making… mostly jewelry photo'ing. Did a wee bit of enameling. Spent a lot of time with Monca… zero time with Gabe (I'll be picking him up around midnight tonight).
Mon and I drove Gabe's car this weekend. It needs an oil change and a front end alignment… I might postpone that work until Mon and I get back from Chicago (next month).
I keep meaning to take pictures of Boo (aka Boots, our current foster). He's still totally freaked with every noise, no matter how small, but other than that he's 100% kitten… plays a lot, runs around a lot, isn't bothered by Bear in the slightest, claws hurt like the dickens (me, not him), and all over in my way when I'm trying to type on the computer.
Well, I'm going to call it a night for the blog now… I want to straighten up a bit before I leave to pick up Mon from practice.
Later!
see more
dog and puppy pictures
see more
dog and puppy pictures