How to Make Polymer Clay Beads: 35 step-by-step projects show how to make beautiful beads and jewelry by Linda Peterson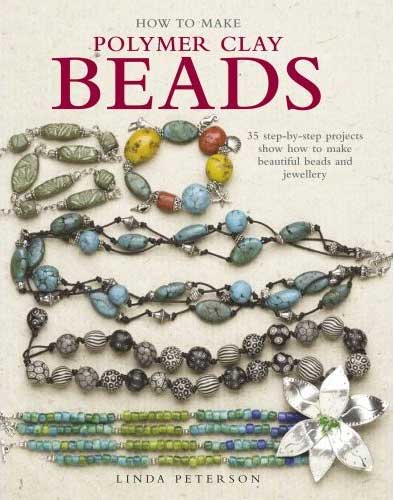 Pros: Techniques and projects that would be nice additions to one's polymer clay repertoire.
Cons: Not as hand-holding as a beginner might need.
First off, I have to say I'm not sure where Amazon got their photo of the front of this book (above) because my copy of the book has beautiful, intensely colored photos on the front cover. But the book was first published in 2008, so maybe they've changed the colors on the cover since then.
This book has four chapters:
Simulating Stone Effects (52 pages, 21 projects)
Mokume Gane Technique (12 pages, 3 projects)
Sculpted Beads (12 pages, four projects)
Millefiore Caning & Skinner Blend (22 pages, 6 projects)
The book starts with an introduction which includes a mention that this book is for beginners as well as people familiar with polymer clay. Then there are a couple of pages each on "tools", "materials" and "techniques". These few pages are really nice; lots of photos with the explanations and a plethora of "tips".
If you're not overly familiar with polymer clay and/or don't have extensive knowledge on the subject, those first 16 pages really pack quite the bang for your buck.
The first chapter (simulating stone effects) is longer than the following three chapters combined. And although there are some clever tips and techniques to making your clay look like stones, there are also quite a few other techniques showcased in this chapter: how to embed a wire into the clay before baking, how to work with texture plates, adding alcohol inks, using UTEE (ultra-thick embossing enamel), image transfer, cloisonné, etc.
I read the second chapter (Mokume Gane) and made note of some of the techniques shown in the jewelry-making portion of the project, like using pewter sheet metal for bezel-setting. I will revisit this chapter at a later date and explore some more.
The third chapter is about sculptural shapes and de-mystifying the amazing finished creations. The author shows in detail how to make an end product that is more than the sum of its parts. She also shows how easy those parts are to make.
The fourth and final chapter is "Millefiore Caning & Skinner Blend". After reading through these last projects, my respect for polymer clay artists continues to grow. I'm sure if one works with clay for long enough and gets into some sort of creative rhythm, things would go faster than what I'm imagining it would be like. But not coming from a polymer clay background, these final projects appear a little daunting (as in, I'd have to have a big work table and a couple of days to kill).
The final pages of the book include four shape templates, a supplier list, and an index.
As someone who has a desire to learn more about making polymer clay beads (I would definitely consider myself a beginner), I found this book useful. Whether or not the projects are your exact taste, there are enough techniques explored to help you create beads in a variety of styles.
But (for me) no book review is complete until I try at least a couple of the projects, so I flipped through them again and decided on "Moonstruck" (the fifth project in the book).
As I proceeded with this project, I began to think that someone just starting out in polymer clay might become frustrated, particularly if they prefer exacts and hand-holding.
There was nothing in the book to indicate the projects were a progression (as in "you need to start at the beginning and work your way through the book").
65% of the projects in this book have 4 or fewer steps. Truthfully, I think these might be better thought of as "stages" rather than steps because within each "step" are several steps.
Be that as it may, I believe the instructions may be too pithy for a beginner.
Each project is laid out like this:
A list of materials
A paragraph on "preparation"
Three or four steps
A paragraph about assembling the finished beads into a jewelry piece
For my first project attempt, I already felt lost when in step 1 the author says "mix 1 part Translucent to a pea-size ball of Leaf Green". I had no idea what "one part" referred to.
After I "Cut out 14 circles in the desired size," I'm instructed to: "Place the circles onto a light bulb, trim any rough edges with a craft knife. Bake the circles."
I get that I needed to place the circles onto the light bulb because each circle is half of the domed final bead and they need to be convex, but I don't have 14 incandescent bulbs laying around the house or even five bulbs (assuming I could fit three of my clay discs onto each bulb). Polymer clay doesn't "dry" the way metal clay dries, so I couldn't rotate my pieces in stages either. An hour later after placing one disc onto my bulb, the disc was pretty much just as soft as when I'd placed it there. Removing the circle from the bulb removed any curvature I was trying to keep in the clay form.
But surely we're not supposed to bake the clay ON the bulb, are we? I mean, the author would have mentioned this if I was to do that. And besides, even if I could find 14 incandescent light bulbs, I can't get more than two or three at a time into my toaster oven.
I decided to read through some of the earlier projects to see if there was more explanation regarding this whole light bulb thing.
I go two projects back and found it. Yes, we indeed bake the clay ON the bulb. Okay… but if I put more than one piece onto my light bulb, they fall off during baking. Also, I have to rig something to hold the bulb in place. Little tips for how to accomplish some of this would be nice for beginners.
But regarding my project with 14 discs: the materials list for this project merely states "light bulb", leading me to believe I'm to have many baking cycles. This is becoming a long project.
Once baked, the beads are made by gluing two of the discs together. As you can see by my photo (below), however, I had two problems with this. One, the discs (for me) didn't cure completely evenly (user error, I'm sure). And two, even if I were able to glue these two discs together, I find the result to be clumsy and unfinished. The edges are not shaped in a way that makes them mesh.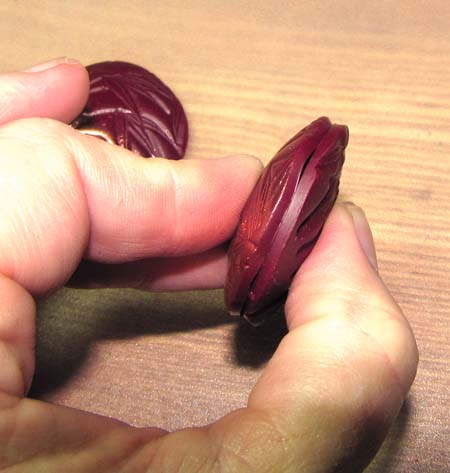 I'm gave up on this project and went back to reading the book.
Project #2 looks interesting. These are slightly curved tube-shaped beads. The first sentence of Step 1 is: "Create eight tube beads using the tube bead roller." Hm… what if I don't have a tube roller? No alternative instructions? I flip back to the "techniques" section of the book and see that bead rollers seems to be the only description for making a lot of the beads in the book. Maybe they're kind of standard with polymer clay artists. I didn't realize this.
As with the other projects, there are no exact measurements for the beads to be created. There are photos with fingertips included, so I try to make fairly good guesses to the sizes.
I continue to read Project #2 and get to the end (step three) then ask myself: "How do these beads go onto jewelry? Where did I miss the step about making bead holes, let along HOW to?"
There is nothing in the project about making the stringing holes so I see now that when she states "Create eight tube beads using the tube bead roller" it is implied that you also put holes in the beads. It may take some getting used to, but things roll right along if you do.
For as many different kinds of teachers as there are, there are probably an equal number of different kinds of students. Some students don't require as much hand-holding and/or exact step-by-step instructions, others do.
The next project I attempted was the Cloisonné technique on page 74. My finished projects didn't look quite as glossy and thickly coated as the sample. The final instructions state: "apply a thin clear coat of gel" twice.
These are my pieces after following the directions…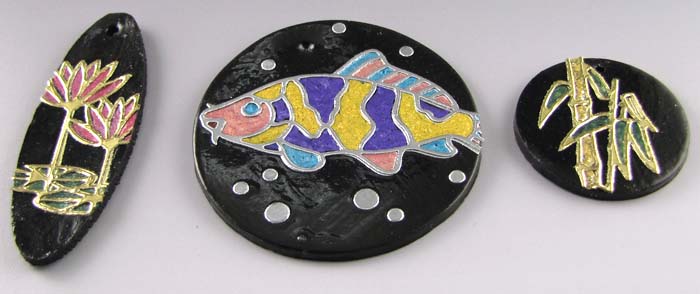 Here's what I was comparing mine to (the book example)…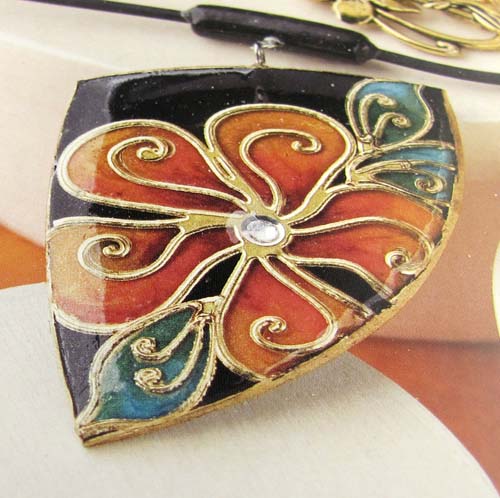 So I decided to go beyond the steps in the book.
I tried three experiments. On one I use resin (left)…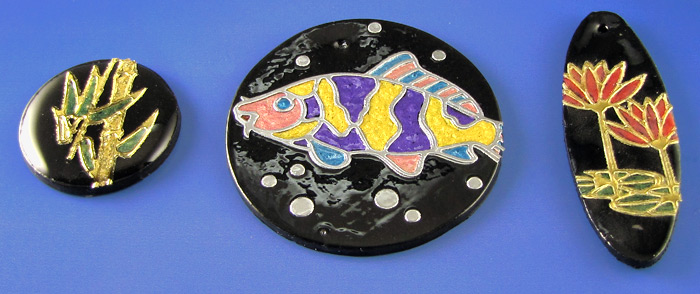 On one I followed the exact book directions (middle) …
And on the final one I re-did the penultimate step in the project ("apply a thin layer of gel over the top and bake"), but instead of a thin layer of gel I put a really thick layer. Then finished it with polyurethane as the directions state "apply gloss sealer", leaving the choice to the reader as to which type of "gloss sealer" to use (left)…
In my opinion, the only one that looks like the book sample is the one with resin on it.
But I like the project and will probably revisit it at some point.
I think a lot of the steps in these projects assume one has some familiarity with basic, standard clay bead making techniques. Honestly, if I'm new to something and it doesn't specifically tell me to put a hole in the clay, then guess what… I didn't know I was supposed to.
So I had to rethink how to approach these projects. I decided to think of them as overviews to new techniques that can be used to make cool effects with polymer clay. I won't think of them as step-by-step instructions for beginners.
The front cover flap states: "Hand-made jewelry is always in fashion. So why not start the process from scratch and make your own beads? This beautifully illustrated book, packed with clear step-by-step instructions, will show you how."
Either I took that the wrong way or it's a bit misleading.
The last sentence there reads: "Beginners and more advanced practitioners alike will find both practical advice and inspiration." Yes, there is indeed practical advice and inspiration. This is not necessarily a "how-to" book for beginners, but even a beginner can find practical advice and inspiration here.
All in all, I did find a lot of fun, new, and useful things in the book. I just think if you took a roomful of beginners, gave them this book, and said "have at it"… there'd be a lot of questions and at least some frustration.
There are implied steps and measurements, but if you can get past that there are hours of new things to learn.