It's been so long I don't feel comfortable just jumping in and yapping. Ugh.
Okay, this will probably sound all disjointed and rambly, but at least I'm posting.
I have a necklace that I started in January, that is half way made and then I just stopped. Perhaps I can actually finish it this weekend. It features some beautiful Toni Lutman beads and I wonder if that's some of my fear/trepidation… y'know, like my design didn't do them justice.
I've done that before. I feel really badly when I do an icky design with someone's great lampwork beads. I don't usually forget that either… I can still remember one I did with Anita Pepper beads. Yes… Anita Pepper beads… OMG, talk about sacrilege.
So… did I already mention that Monica's Ohio thing is in September not August?
Gabe and I were watching tv the other night… scrolling through the directory to find something… when we ran across this: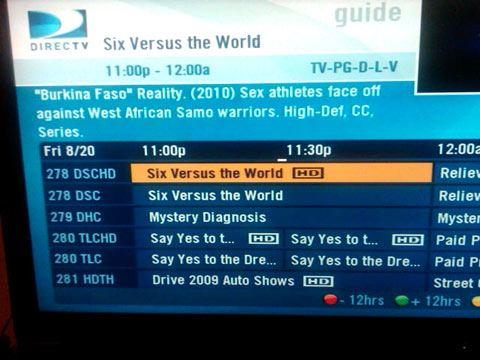 In an attempt to:
A) Not repeat myself
B) Be able to find things quickly if I want to refer to them
… I've decided to create a quick blog index.
"Man is least himself when he talks in his own person. Give him a mask, and he will tell you the truth"
- Oscar Wilde
Boy… ain't that the truth. And the internet is the epitome of a mask these days.
This is a tool that looks kind of neat. Someone on LE brought it to my attention.
Bench Top Cut-Off Saw
Speaking of LE finds… here's another one:
Amazing Tile And Glass Cutter
Check out the video for this thing.
Did I already show you these?
Engineering Wonders of the World
It's a must see.
Ever wanted to know where to buy leather cord? This place looks like a good starting point.
Leather Cord USA
Okay, I think that's enough show of how distracted I am.
I plan to get back into the groove.
As a matter of fact, I even have a plan for my upcoming jewelry. But the apartment is getting claustrophobic. I think I'll spend tonight cleaning it. Tomorrow I take Mon to practice sometime Saturday will be my first attempt at new creations, most likely.
TTYL!
see more
Lolcats and funny pictures
see more
Lolcats and funny pictures
see more
Lolcats and funny pictures
see more
Lolcats and funny pictures