Had a design idea today… can't wait for a chance to try it out. Part of the design will depend on some silver fusing possibilities so I'd better read up on it or figure out how I'll experiment or whatever. I'm excited!
Been thinking a bit about charm bracelets lately. They're a design that Monica likes to do, but honestly… I gotta find some way of twisting them. I'm not overly fond of the traditional bead-loaded bracelet lately. So I'm giving some thought to figuring something out that may be a wee bit outside of the design box. Fingers crossed!
Although I will say that (as far as eBay is concerned at least… fairly impossible to see what's selling on Etsy, ArtFire or RubyLane) artisan charm bracelets seem to be out of favor at the moment.
How to Start a Custom Order
Start with something like:
1) If your time is very limited, make sure they tell you ahead of time if they're in a rush or not… and are they willing to accept a very long (weeks to months) wait for this order.
2) The more details they can give you about what they want, the better:
• Size
• Design
• Beads
• Colors
• Metal
• Clasp style
3) If you don't have the exact beads already on-hand, is your customer willing to wait while you search for them? And, are they prepared to pay a higher price than your normal jewelry because you won't be able to purchase items at a bulk rate?
4) Give them an estimated quote of the price and ask for a quasi-refundable (see explanation in #6) deposit of 50% of the price prior to any work (to order the necessary components as well as a security should they change their mind after you make the piece).
5) If you make the piece to their specifications and they change their mind about anything (actually want smaller beads, larger size, sterling instead of gold, different clasp, etc), charge them for reworking the piece. $10-30 per hour for alterations.
6) When the piece is finished, they have the option of purchasing it. If they do not want it, hold their deposit until the piece sells to someone else.
What Have I Been Reading Lately
Hm… Well, I'm taking a bit of a break from the usual in order to explore the world of particle physics. I have no idea why, but that and astronomy fascinate me.
Revisiting the Past
Spent some time this week working on my gallery pages (don't look yet, they're not up). In doing so, I have to say it is SO much fun revisiting some of my past designs. This one, for example, which actually uses my own Lampwork beads (if you knew my pathetic history of lampworking, you'd understand my enthusiasm).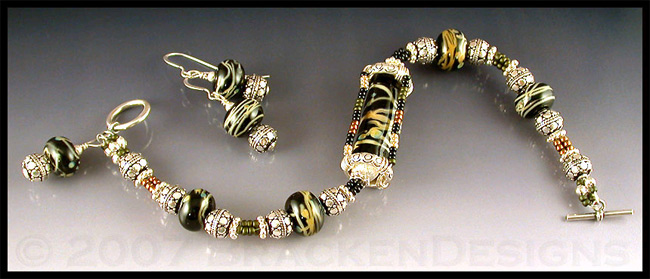 Of course, in going through old photos, I also see some of the absolute abominations I made (and worse… sold!). Sigh… oh well. There has to be growth. Hopefully, I will continue to improve as an artist (or creator, or whatever nomenclature you want).
Masaru Emoto
His experiments are interesting. Basically, he photographed magnified water droplets during experiments in which the water had various things done to it, like having a Buddhist priest bless it, attaching one-word notes to the water bottle, or merely being polluted water.
(photo from
http://www.life-enthusiast.com/twilight/research_emoto.htm
)
His experiments have received a lot of criticism from the scientific community, but it's interesting to see that when Emoto (along with Dean Radin) conducted a double-blind test in 2006, the write-up was published in Explore: The Journal of Science and Healing.
If you're interested, the full text is available
here
.
According to their website: "EXPLORE: The Journal of Science & Healing addresses the scientific principles behind, and applications of, evidence-based healing practices from a wide variety of sources, including conventional, alternative, and cross-cultural medicine. It is an interdisciplinary journal that explores the healing arts, consciousness, spirituality, eco-environmental issues, and basic science as all these fields relate to health."
And the journal is published by the same company I submit medical article to. :-)
Featured Artist
Today's featured artist is
Donna Millard of FyreBeadz*
. She just rocks… plain and simple… on so many levels.
I mean, look at this photo on her home page (today… don't know if she changes it often)…
Gorgeous beads! Gorgeous photography!
It was her bracelet connectors that first made my head spin and take notice of her.
Explore her Gallery as well as her current offerings. If you're like me, you won't be able to resist a purchase.
Look at this perfectly name "Bohemian Rhapsody" set:
Donna, thank you so much for allowing me to show some of your fantastic work on my blog.