The quilted pendant sold today. Yay! I feel good about that because that is definitely on the "greener" side of my going green jewelry.
Here's something interesting. All but one of the bronze metal clay jewelry we've sold so far has been polished. In light of the fact that we're told patina from the kiln doesn't last, I find that heartening.
I'm thinking of making an identical set of charms as in this bracelet, but polishing them.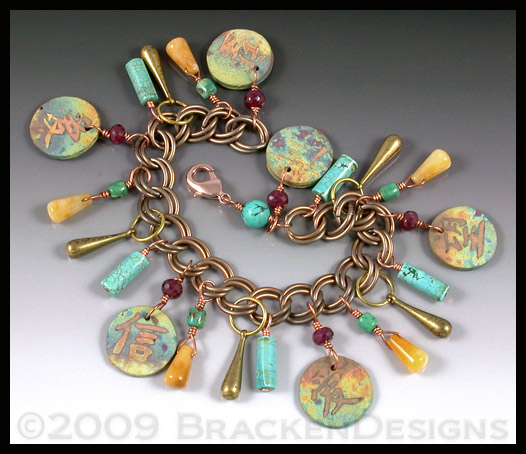 Here's the latest from the kiln. Notice I only buffed one of the charms so far.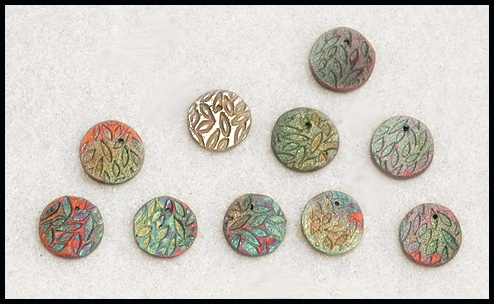 But now I have to make some of those decisions. Do I leave them au natural or do I buff them? Do I use them in something or try to sell them as components?
From the same kiln batch, I did get those tubes that I made earrings with. Maybe tonight or tomorrow I get to my weekly photo session and then I can show you those as well as all the jewelry I made in my spare minutes here and there.
I got out my box of cords (silk ribbon, suede, etc) and made one necklace (that I like) ready for a pendant. I was thinking of putting one of those electroplated leaves on it, but then I wanted to add a green bead to the pendant and in looking through my box of green gemstone beads I grabbed some for project #2… which was a simple but eye-catching necklace.
I really need to start digging into my gemstone boxes. I have a ton of beads I've been wanting to use.
I am sketching out an idea for something that's probably over my head, but I'm going to have a go at it nonetheless. I'm making something inspired by one of Tiffany's stained glass creations. I'll try to get photos along the way… it won't be a one-day project. Actually, I have to put some "ahead of time" thought into certain parts of it so I'm not left… without the right configuration(s). Some of it will be tricky… and I will need things to "lay" a certain way in order for it to look right in the end. Well, I'll keep you posted.
Comment from
Alex
:
I admired your restraint at the show today, you followed through with your vow and didn't cave...good on ya!

And it IS a real gift, and a sentimental one which makes it that much more special to me. I remember helping you pick out the stamps...we had a great time that day!
Thanks! That day will also always remind me of my self-indulgent back massager. Ha ha ha! I love it!!!
And yeah, it really was hard not buying any beads at the gem show, but I really want to give this project a good go. Was Anil there?
Comment from Beth Boal:
Definitely looking forward to that "why" installment...
Hi Beth! I certainly hope the "why" didn't disappoint. Wish me luck!