TURKEY
Before we left for the tournaments, Monica and I were running an errand in Oakland on Piedmont Avenue when we saw… a turkey… walking across (jaywalking!) Piedmont Avenue. I stopped the car so Mon could get out and snap a quick pic. By that time he was safely on the sidewalk.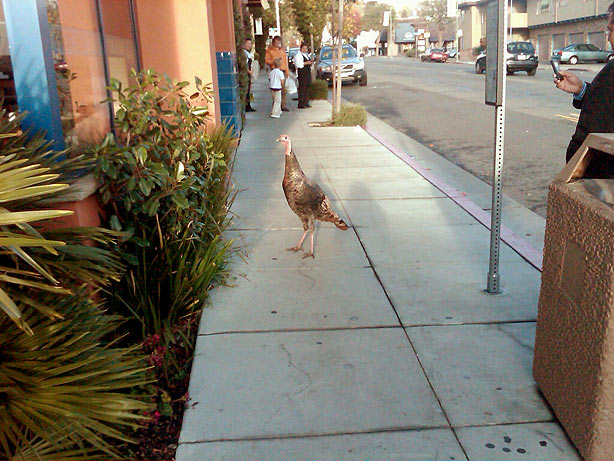 GABE
Gabe is getting better on a daily basis. The only thing that still seems to be affecting him is physical stamina, but that will come in time. Strange to think that only a week ago he still wasn't eating.
We're going to see if we can squeeze in a Thanksgiving dinner early on Saturday, after Gabe's SATs and before we head south for Mon and Gabe's games, 6pm and 7:30pm respectively.
Oh, while I was in the hospital spending time with Gabe I made my first beaded bead (a skill I'd wanted to learn for awhile now). I'll show you when I get around to getting a picture of it. Next I want to do the same thing but with a color theme.
FUNDRAISING
Mon had to sell poinsettias (ten of them) as a fundraiser for her hockey team. I am really grateful to my co-workers who rallied around and helped. Although they DID get a beautiful plant for only $10… see…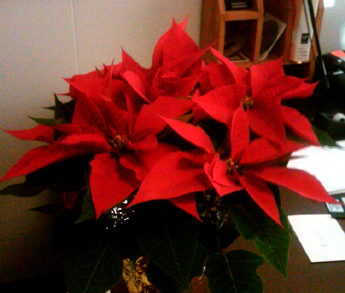 There is only one left and I'm keeping it on my desk.
HEALTH
Was called by my doctor's office to come in for a blood-pressure check, so I did. I guess I haven't been to the doc in awhile. When I had been going, though, my blood pressure was considered high. Not dangerously high, but nothing to be overly happy about either.
So I just got back. 106/62! Yay! And pulse was 67. Maybe all the walking I do really IS having an affect.
VALENCIA
I took a drive from the hotel to Whole Foods because Monica wanted some apples… and on the way I encountered a strange site. There was a two-block stretch of road that was covered with blackbirds (crows or ravens… I don't know the difference). I snapped one quick photo with my phone, but they were everywhere… and even up the side streets. It was quite the eerie site.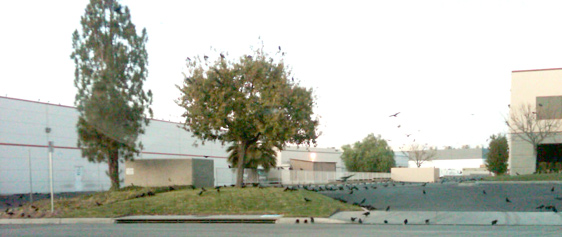 Anyway, Mon's team did great, IMO. They are an "A" team and it was a double A tournament (these distinctions, however, don't always have the meaning they imply). Anyway, they played a "AA" (pronounced "dubbel ay") team and only lost by one (2-1), then they played an A team and won 4-3. The third game was against another AA team and they won 5-2. The final game was against a AAA team and they lost 3-1.
Those were some fun games to watch… wish I'd seen them all.
But… to do this backwards… after dropping Mon in Valencia, Gabe and I went on to Las Vegas for his team's tournament. Gabe couldn't play, but it was still nice to be there and support his team. The games were tie-loss-loss-win. They have a big weekend coming up… CAHA in San Jose this Saturday and Sunday. Good luck, boys!
Well, I have to go now so I'll leave you with the usual good cheer…
see more
Lolcats and funny pictures
see more
Lolcats and funny pictures
see more
Lolcats and funny pictures
see more
Lolcats and funny pictures