Of the three design ideas, I only had enough time in the workshop to attempt two of them.
I made my copper strips for enameling, but twice, the enamel just disconnected completely from the metal. I took a few photos to show you, but for some reason there was only one photo on my phone when I went to look for them. Shrug.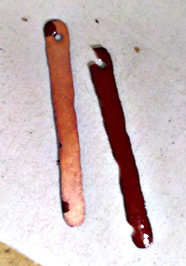 Anyway, I have no idea why the enamel didn't fuse to the metal. I cleaned the metal the way I always do. I fired the way I always do. But my first 2 out of 3 popped clean off, so that was enough for me. I'll save the copper strips and maybe patina them and make the earrings.
So I moved on to project 2. Had more success there. The round beads are Lori's lampwork (as I mentioned last night) and the circles are my accompanying enamel disks.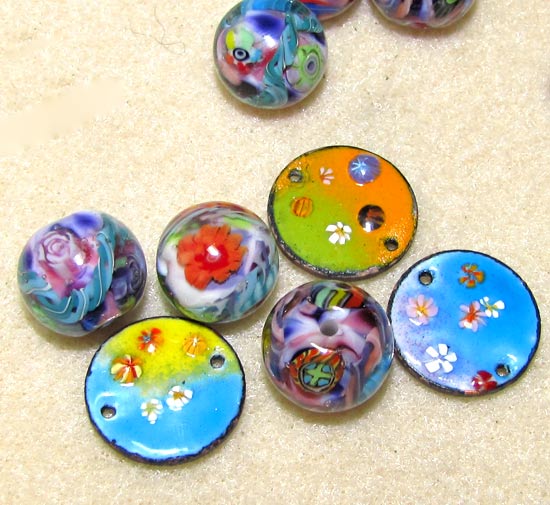 I'm not sure I want to make this into a bracelet. If my enameling is going to be that fragile, my confidence level for a bracelet with enamel components is fairly low. I may see how it goes, tomorrow, when I begin to wire the components together. Otherwise, I'll turn them into earrings, I guess.
But it's all good because I always have fun and learn a lot.
Didn't get a chance to get to project 3, so my plan for tomorrow is:
1) Make a bracelet (or earrings) out of design 2
2) Patina the copper paddles and make earrings as an offshoot of design 1
3) Make the enamel pieces for design 3
4) Do phase 1 and phase 2 firings for the steel metal clay pieces I finished yesterday
BTW, I don't think I ever showed you this necklace (click on the photo for more details).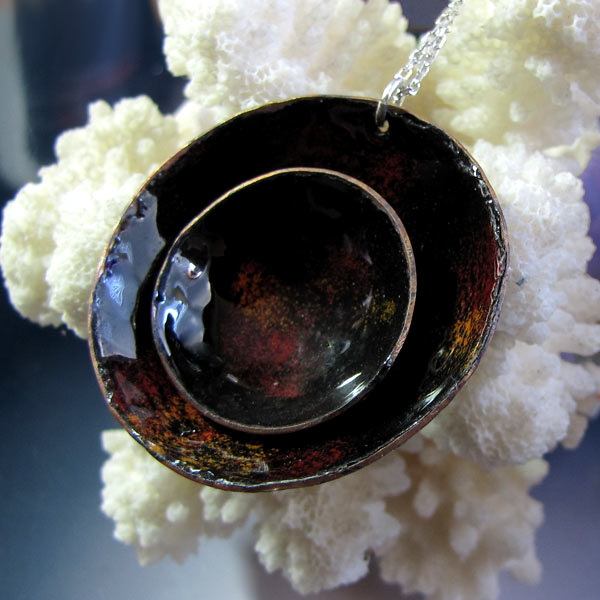 I enjoy making "double dome" pieces.
Here are some double-dome earrings I kept for myself.