Worked on some soldering last week. Was going to make a domed pendant that could be enameled, but here's what happened to the dome: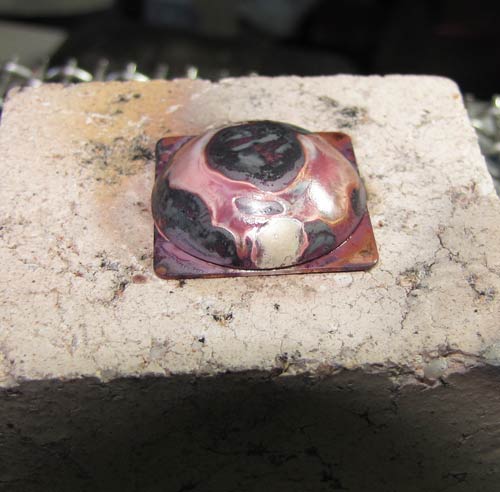 As a fellow jewelry artist helpfully pointed out, the reason my silver solder jumped from the crevice (where it was … in front there, between the copper dome and the flat copper square) to the front of my dome is because the dome got hotter faster than the square, so the solder went to the hot spot… the dome. D'oh!
Seems to clear now, but at the time I was just so focused on other things. So next time I do this, I place my piece on a trivet or tripod screen and fire from underneath.
Thank you, JF!
Anyway, I did end up soldering that spot, but was still upset about the silver now fused to my copper dome, so I threw the piece in the pickle pot and went to bed.
Next morning I take the piece out and look it over and decide that the reverse side of it looks like a little pond. So I make three miniscule koi and place them at different levels in the pond using layers of resin, and voila!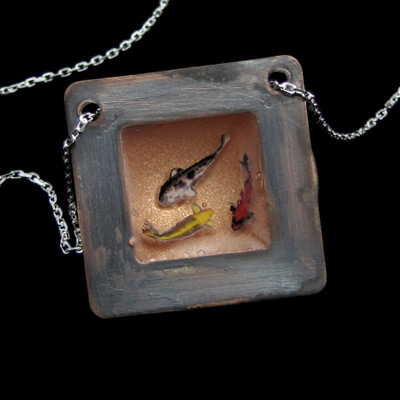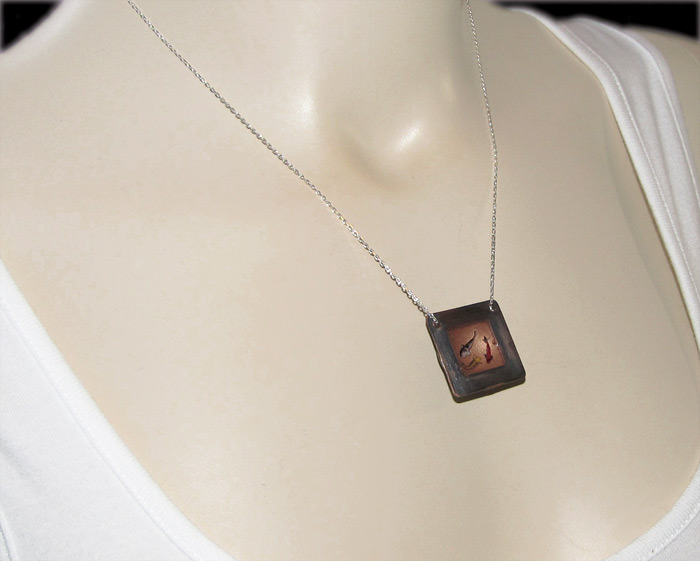 While I'm waiting for the kiln to finish, let's do a little comparison shopping.
16mm sterling silver tube clasp and 22mm sterling silver tube clasp
These are the kind I use on my netted weave bracelets: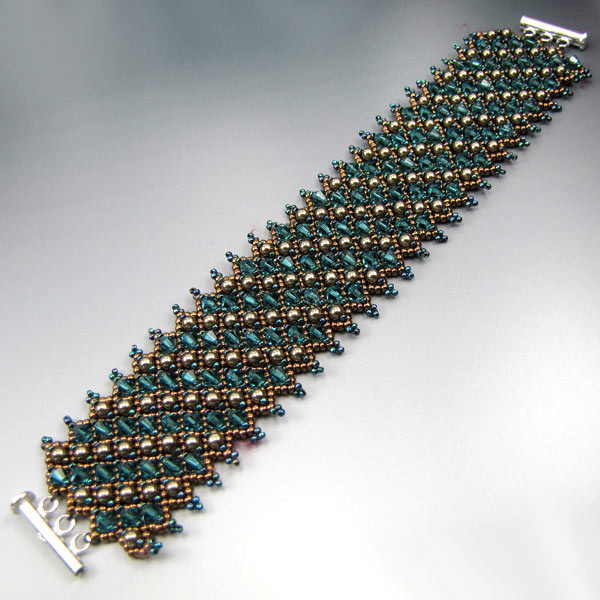 Firemountain: 16mm is N/A, 22mm is $36.63
Beadaholique: 16mm is N/A, 22mm is $15.59
ArtBeads: 16mm is $9.49, 22mm is $11.17
JTV: 16mm is $8.99, 22mm is $10.99
Bluemud: 16mm is $8.96, 22mm is $10.30
FusionBeads: 16mm is $8.53, $10.56
House of Gems: 16mm is $8.17, $9.74
MonsterSlayer: 16mm is $8.00, 22mm is $10.05
RioGrande: 16mm is $6.24, 22mm is $7.52
Esslinger: 16mm is $5.90, 22mm is $8.40
Halstead: 16mm is $5.11, 22mm is $5.75
Thunderbird: 16mm is $4.81, 22mm $6.39
I ended up ordering from Rio because I got a wicked discount for ordering 5 (which was how many I needed). Got the 22mm for $6.08 each.
Tomorrow back to metal clay stuff.