This past weekend, I took a three-day PMC certification course through the
Rio Grande program
(not easy to find on their website, IMO, unless you know to look under "Rio Rewards" in tiny print at the bottom of any given page of the Rio Grande website).
BEFORE THE COURSE:
I was thinking it would be a great class to take because of all the skills I'd learn in 21 hours (three 8-hour days with lunch breaks) and as a bonus, I'd have a teaching credential (assuming I passed).
My only two concerns were: My attention span seems to have a time limit on it. When I've taken classes before (like at
B.A.B.E .
), I tend to get dopey after about 4 hours… hard to concentrate and keep my focus.
My second concern was my lack of skill and experience with PMC. Taken right from Rio's site, "…this certification is intended for the experienced PMC enthusiast who seeks the recognition that a standardized level of expertise offers". And, "Students should have considerable working experience with the product and should be comfortable with techniques such as joining, slip joining, hollow forms, ring construction, rolling out equal thicknesses of clay, stamping textures and working with two-and three-dimensional forms."
Yikes! In no way would I consider myself "experienced" in PMC, nor do I consider myself to have "considerable working experience with the product".
Here's a good example of my experience: About ten years ago I bought a package of silver metal clay. It sat on my shelf, intimidating me for another five years. Finally, after taking classes in Bronze Metal Clay, I decided to try the silver. I made a few pieces, sold them… and that was it. One package!
Through the remaining years, I've purchased silver metal clay when I saw a price I couldn't pass up. But the packages still remained unopened. Too precious to use, know what I mean?
I always figured that when I got good enough with bronze and/or copper metal clays, I could try silver again. If I had more skill there was less possibility of wasting the precious silver clay. And please don't tell me I can send the pieces in to a refinery. I appreciate the help, but if you compare the prices of silver clay (1 ounce= $60) to the market price of silver (1 ounce - $28… and you won't get that much either), you'll see it's not a tempting proposition.
But apparently the day never came when I thought I was skilled enough to begin using my silver. I did pull out the bronze and copper clay once a year or so, but I never dedicated enough time to it to learn anything properly.
Some of you know I recently changed the course of my life and now have more time than before (huge understatement) to pursue jewelry-making excellence.
In preparation for the course, I started making some bronze pieces. I wanted to try some of the techniques I was supposed to be familiar with according to the course instructions.
Then, in a blazing light of bravado, I also opened a package of PMC and gave that a go.
One of the skills I was supposed to already possess was knowing how to use slip. Hm… okay, so I opened the sealed container of slip that I'd purchased several years earlier and… ha ha ha… out pops a dried lump of silver clay, hard as a rock. Laura! See what happens when you wait this long to use these things?!?!
Unfortunately I'm not alone. There are countless jewelry makers who have purchased packages of silver metal clay and then do nothing with them because they're intimidated by the process (well, the process combined with the reminder of how much they paid for the silver clay).
Although I trusted the Rio program to only use qualified teachers, I did want to see what kind of work our teacher (
Patrik Kusek
) did. Wow! One look at his jewelry showcase and it was a no-brainer for me. I signed up for the class immediately.
THE COURSE:
Turns out both of my fears were unfounded. I was alert and focused through the entire three days.
And skill level doesn't seem to matter. There were eleven students in my class. Some had pretty decent experience with silver clay, others (like me) had minimal experience with metal clay, and still others had zero experience with any metal clay whatsoever.
When you see, then, what each of us produced at the end of the three days, it really is a testament to Patrik's amazing skill as a teacher. EVERYONE produced high-quality, great-looking pieces of jewelry.
Just learning a few special skills, tricks, and techniques makes a huge difference.
I have a ton of books on PMC, but there's a completely different kind of learning when you take a class and/or work hands-on with someone else.
In the Rio course, you're supposed to complete seven specific projects, but we got to do eight because we were also testing PMC Sterling Silver.
Your fee ($420-$495, depending how early you sign up) includes all the PMC you'll need for the projects and a nifty set of tools to keep. Other tools (like ring mandrels, pliers, etc) are available to use during class.
Patrik kept us all on schedule. I thought that was an amazing feat in itself. Everyone completed all the projects, this included firing and finishing.
Through working on the eight projects (photos below), we learned how to:
Keep your clay moist while you're working with it
Finish (polish, patina)
Add texture to a finished (meaning already fired) piece
Make precision shapes
Make seamless joins
Figure out ring sizes, adjusting for different shrinkage levels
Connect, dry to dry, wet to wet, or wet to dry clay
Deal with cracks or divots
Add eyelets, screws, and soldered findings to pieces
Use syringe paste
Use PMC paper
Make bails
Embed stones/CZs
Use slip, how to make slip, and how to make slip oil paste
Incorporate kiln blankets into the process
Carve
Troubleshoot various scenarios
Keep rings from shrinking beyond your desired size (or how to fix them if they do)
Mix different PMC products
Hammer on a ring mandrel or bench block
Add patina
Reconstitute dry clay
Recycle powder and leftover clay into like-new state
Use different sanding products
Make earwires
Straighten pieces that curl during drying
Add gold-plating (aura 22)
There was more, but you get the idea.
Another thing I liked was that Patrik showed us lots of ways to do things "on the cheap". You don't always need the latest and greatest fancy tools to get the job done. You'd be surprised how many household or otherwise easily available and inexpensive items can be incorporated into your PMC jewelry-making experience.
That being said, Patrik also didn't snub the use of purchased, specialized tools. You can work any way you want with any thing you want. If there was a tool we were leaning about or how to use, Patrik gave us information on where to purchase it ourselves.
Copious note-taking was key for me.
A demo takes place (where the teacher demonstrates one part of a project), then we all go back to our tables and work on that. If you don't take notes during the demo part, you may (like many in class did) sit down and start working only to ask a few minutes later, "How were we supposed to attach this part?" Or "Did he say we use PMC+ or PMC original for this?" Or "Do I do this first, or this first?"
Even those of us who filled pages and pages with note-taking still asked the occasional question. I can't imagine trying to remember all the steps without the notes. I referred to mine constantly.
The three days was filled like that… demo, work, demo, work, demo, work…
THE RESULTS:
Rio is in the process of changing their teaching program a bit, so some of the projects shown on the website are morphing into other projects. For example, the lentil bead shown on the site has changed into earrings that were each half of that lentil. However, since you learn to make the lentil bead first, it was sort of like a two-for.
And I love lentil beads!
The projects listed on the Rio site (as of this writing) are:
Saucer Bead:
"This project teaches you to make a coreless hollow form and surface ornamentation."
That's the one that I said transformed into earrings, but the technique is still as described. We learned to make a coreless, hollow form and added surface ornamentation. Here's mine...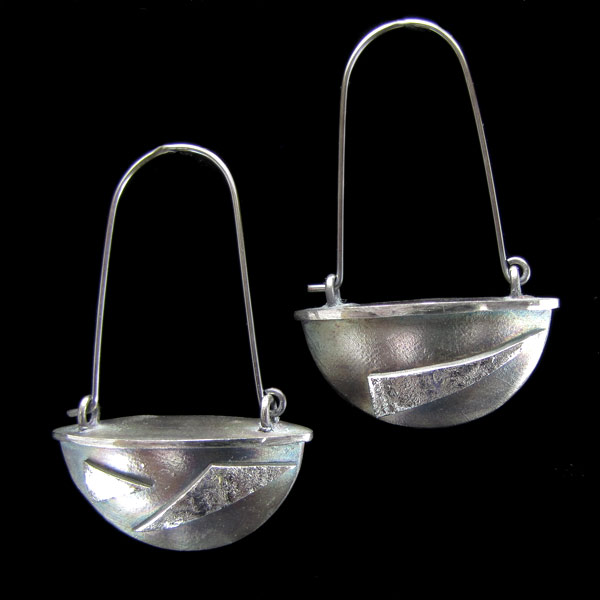 Double-Fire Ring:
"This ring project offers one approach to sizing, shows how to set a heat-resistent [sic] stone, teaches double firing, and includes the use of PMC Paste."
Here's mine…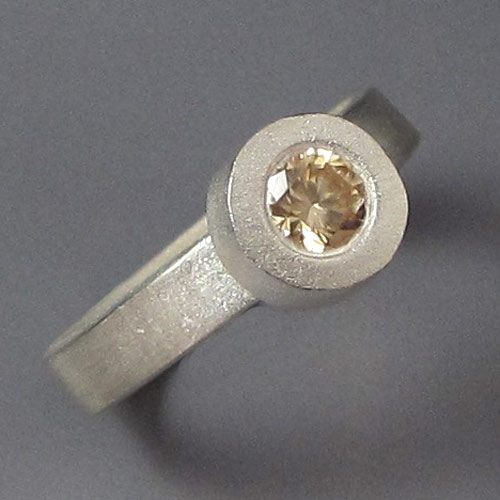 Relief Pendant:
"This pendant starts with a reusable relief die, then teaches the immediacy of creating impressions. It also demonstrates carving into dry PMC."
Ours were made into tie tacks rather than pendants. Here's mine (I stopped the patina process in the orangey-red stage, if you're wondering why it looks rusty)…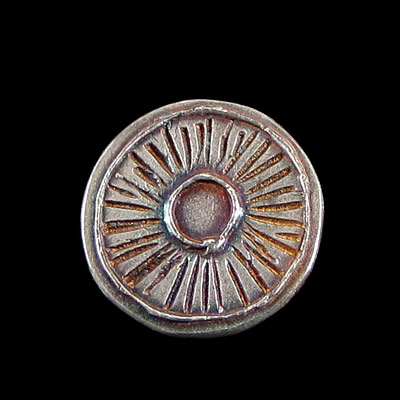 Tetrahedron:
"This interesting brooch teaches how to assemble dried elements of PMC to create a planar form. It also includes the use of PMC Paste as a glue, and teaches students how to attach a pin finding using conventional soldering."
We had the choice of adding a pin back, a bail, a jumpring, or drilling holes. I opted for the holes. I really liked this project and was very impressed with how precise everyone was able to get their shapes/corners. Patrik really is an excellent teacher.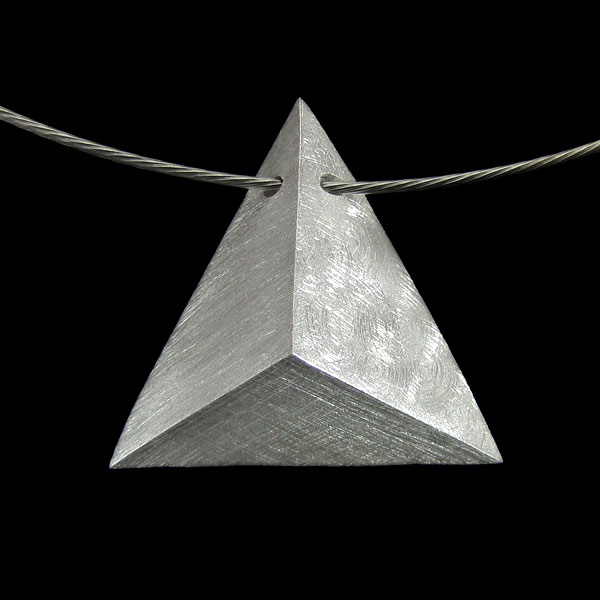 Woven Earrings:
"These very wearable earrings demonstrate another way to use PMC Paper, and along the way teach about delicate control, drilling, and doming."
We had a choice of making them into triangles or rectangles. It was nearing the end of the course and I was getting tired, so I opted for what seemed simplest and went with the rectangles.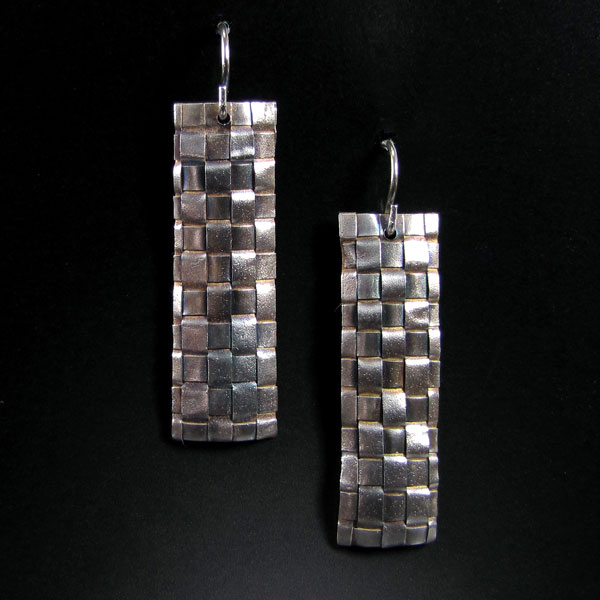 Band Ring with Gold:
"This ring demonstrates the use of PMC 3 to make a ring and the use of PMC Paper as overlay embellishment. The ring is torch fired, then further ornamented with Aura 22 gold."
I love the simplicity of this ring. Now I will be brave and open the package of Aura 22 I purchased about 8 years ago. BTW, the gold you see inside the ring band is merely patina. As with the tie-tack, I stopped the process before it got to the blue/dark stage. The Aura 22 is only on the squares on the front of the ring.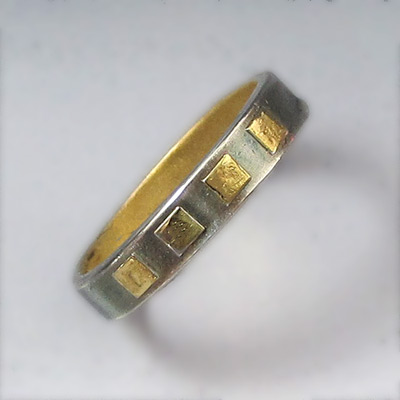 PMC Pen
: "This culminating project allows students to reuse many of the techniques taught in the preceding projects. Students will make a functional item, work to a specific size and create threads for after-firing connections."
This project used up an entire 28 gram package of PMC ($60 just for the clay, last time I checked). But imagine how cool it is to have your very own one of a kind pure silver pen! I decorated mine with Gingko leaves.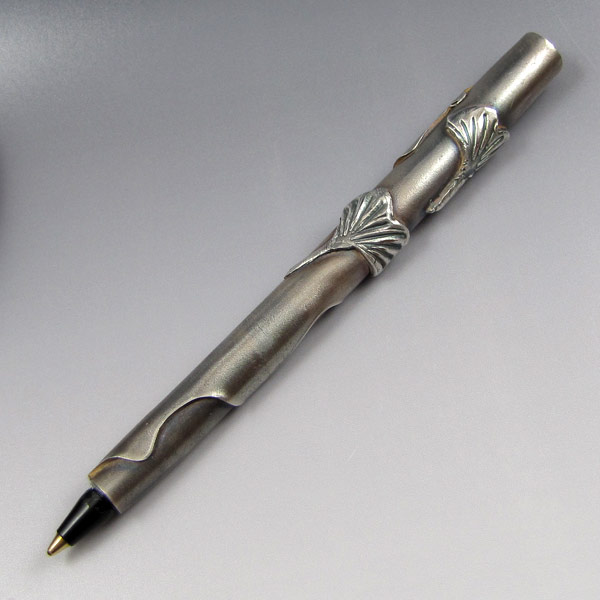 The final project was testing the new (fairly new, anyway) PMC Sterling Silver Clay. We made simple band rings then carved designs into them.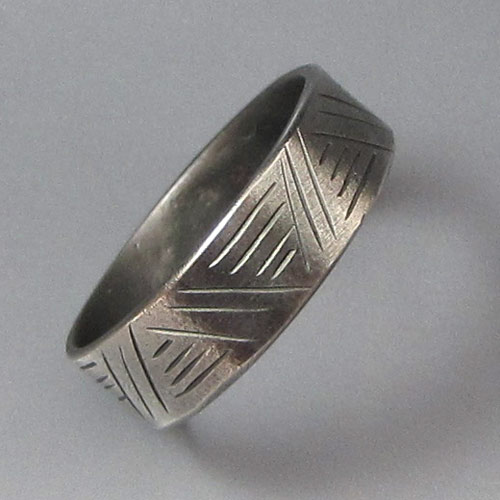 And that about wraps up my adventures in Rio Grande's PMC Certification course. I couldn't be happier that I decided to do it and I look forward to putting my learning to good use now.