I wish I were a good enough jewelry maker to be anything but a stressed out mess when doing a custom order.
It's infinitely easier to do what I want, stop doing something if I don't like how it's turning out, and have absolutely no time constraints for any given project.
The latest was "chunky bracelets with lots of sterling silver in the team colors of black and red". And silly me, offered to personalize each bracelet with an etched charm of the child of each of the mothers receiving these bracelets… which might have been a more clever idea if I had a couple of months of experience with this newly learned technique, as opposed to… oh, I've tried it a couple of times… y'know, with words and patterns so far.
Here's the three bracelets in one quick photo… sorry for the poor quality of photo, but Mon had a late game last night and an early one this morning so time was tight… couldn't set up the photo studio.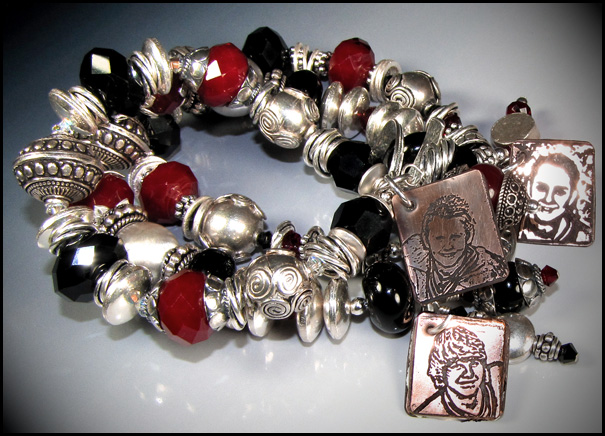 Next weekend is Christmas. I don't "gear up" for Christmas. But people were still buying in droves. This is the only time of year people panic about getting their packages on time (totally understandable).
We sellers give the USPS delivery confirmation # to our buyers, but what they may not know (if they aren't familiar with the online system) is that USPS doesn't update the delivery confirmation information in any kind of consistent or reliable way.
It's like, you can see if something WAS delivered (if it says something was delivered), but the ABSENCE of a "delivery status" does not necessarily mean the item was NOT delivered. Know what I mean?
And right now they've even got some Delivery Confirmation #'s not even showing as viable. Ack! Sigh… no wonder my customers are panicking. Well, hopefully they will: A) receive their packages in time and B) notice the postmark date. :-)
Gabe's team finished the Vegas showcase and Gabe is on a plane on his way here as I type.
Mon leaves Saturday for Connecticut and Vermont.
Well, that's it for the moment.
TTYL!