This Weekend
Tournaments. Gabe will be in Dallas (actually, as I type he's probably somewhere over New Mexico still, but will arrive in Dallas in time for a Thanksgiving dinner with some of his teammates)... and Monica and I will be leaving for Anaheim soon. I don't feel like taking the laptop, so no udates in the blog until I get back (Monday).
Entertainment
Mon is nearing the end of season 1 of Heroes (I haven't even started Heroes yet), and I think I'm around episode 9 of season 3 of Lost. For the car, however, I have a couple books on tape.
At the hotel (when we're not doing hockey), maybe I'll design and/or cut out some copper and brass sheets I have for soldering.
Cats
Here's a photo of the ferals. This was Homie's last photograph. Shark (since being rescued from the animal shelter) has a square inch patch of hair missing from his nose. Poor thing.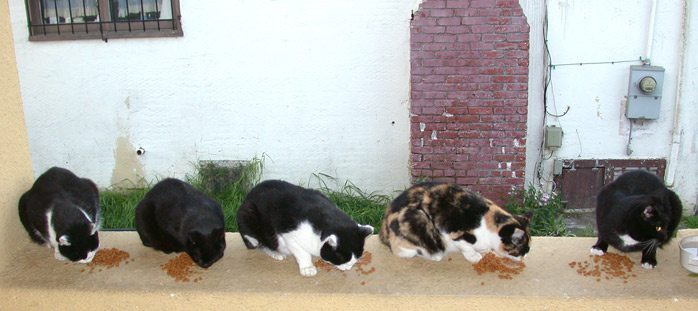 Just to be on the extra safe side, we're having all the cats micro-chipped and I got collars for the indoor ones.
Jewelry
I didn't get time to list any of the new stuff, but if I have a free 10 mins or so before I go I'll make the new stuff my slide show (over there on the righthand side of the screen).
Sign-Off
Okay, have a great weekend, everyone! TTYL!