Project 4… window frames
Eventually, I'd like to make these in metal clay, but first I want to try them by sawing plain old sheet metal.
So my idea is to find lovely window designs and make the frames out of metal then add the background (outdoor scenery) from photographs, resin, paint, enamel, etc.
Since I have very little experience with sawing metal, this will be good practice for me.
First I shall select a few windows. That is easy enough by doing a search on Google and Bing for "gothic windows".
Here are the sketches I made…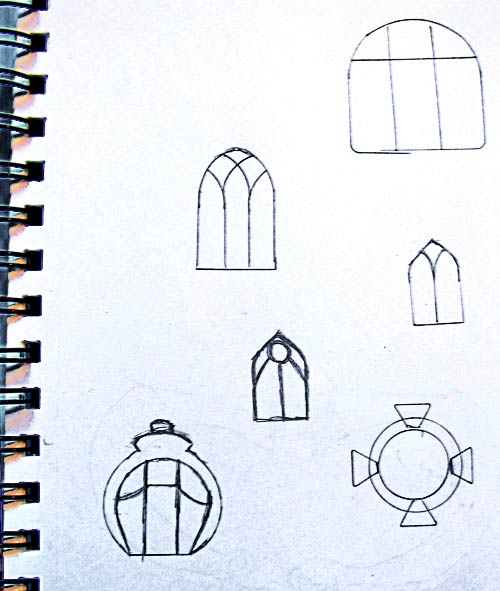 This should be a fun experiment for me as for years I've been thinking of ways to incorporate windows into my jewelry making. Something about windows really intrigues and excites me.
As I write this, I'm enameling. The best thing I ever did for my enameling was to purchase multiple trivets. As one item is in the kiln, I have the next one ready to go, and I can spend time preparing a third one.
There is no down time… the kiln constantly has something in it. This is important when I'm making pieces that have up to 10 layers each, which metal cleaning between enameling layers.
Today's progress is that I made one more enameled circle to go with Lori's beads (project 2) and I made a necklace/earring set out of them (yeah, I chickened out on the bracelet).
I also got the enamel charms done for project 3. Maybe tomorrow I can finish the silverwork (forging and soldering).
I still have the dang steel that needs to be fired. I guess I'll try tackling that and let revamped project 1 take a temporary back seat.
Hopefully, I'll have some photos to show you soon.