Had a fabulous class today. Torch Enameling by
Steven James
.
Here's what I made in this half day class: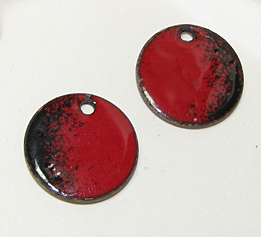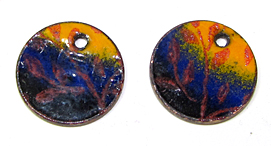 Considering this is the first time I've used enamels like this, I think the results are okay. This is a skill I plan to continue working on to improve. I really like it.
Learned a lot this weekend that will help me in my attempt to minimalize by studio set-up as well as continue in a greener direction with everything. I'll touch on these things in future posts.
On Nov 13th's blog post,
Melanie-Pearl
commented:
L.O.V.E. the colors! WOW!!!!!!!!!!! you know what's funny about that riveted jump ring---i just paid $100 for link-lock jump rings yesterday. i'm going to use them on some custom orders i'm putting together. i figured the expense was worth it because i don't won't to be repairing these orders for life. (they have enamelling on them so i don't want to solder them shut.) i can hardly imagine setting a hundred tiny rivets in tiny jump rings. did you need a microscope? :)
Ha! Thanks for the compliment, Melanie. I, too, love the colors, but I don't think I can sell any of these creations until I do a LOT of testing… the first thing we were told in class is that these colors are temporary. Hmph! They won't FADE, but they will eventually WEAR. I want to define "eventually" a little more… and I want to test out a variety of coatings in an attempt to make the longevity of the jewelry a bit more.
Wow… that's a lot of link-locks you bought, but they sure look like they'd come in handy. I hope you bought them at somewhere like
OttoFrei
'cause I just saw some somewhere else for $4.55 each. Eek!
Too funny about the microscope. :-) It wasn't as dreadful to do as it looks. The jumpring is actually 19mm, so it's pretty big. I might try making a few for a more industrial-type necklace. We'll see.
BTW, I love the rings in your blog today. You rock!
TTYL!