Hadar's class was fun and informative, as usual. Turns out the two lovely ladies at the end of the table aren't seasoned pros (like everyone else there except me). One of them makes AMAZING felt dolls… I hope she lists on Etsy soon so I can show you her work.
Okay, this is weird… I swear I already mentioned this, but where? Where did I write it? Hm… shrug… anyway, my peacock is larger than I intended, but he's coming along. I'll try to get a picture tomorrow so you can see my progress. If nothing else, he's got a very special eye. :-)
While he was drying, made some … hm… ropy tubes? They're not fired yet. Maybe I'll get a pic of those too.
But, when I was looking for dremel bits to take to Hadar's, I found some silver I'd made but not yet fired. Seeing as how the only time I did try firing silver, I burnt it to a crisp, I needed some… time… before trying it again.
This time I did 1110 degrees for 45 mins. No special ramp up or down (I figured if some people fire with a torch, there's not long ramp up or down in temperature, so…).
And, tada! They were white when done. Yay! They are currently in the tumbler. I'm not EXACTLY sure of the next steps. I mean, I want patina in the recesses… does that mean I patina them and then HAND polish the surface?
Okay, regarding listings, I got three pieces of jewelry listed in the last two days. One pair of earrings (sold) and two sparkly crystal bracelets.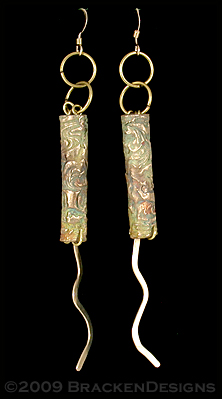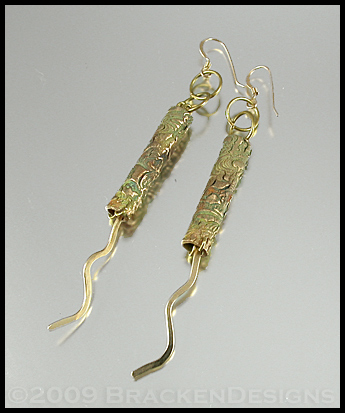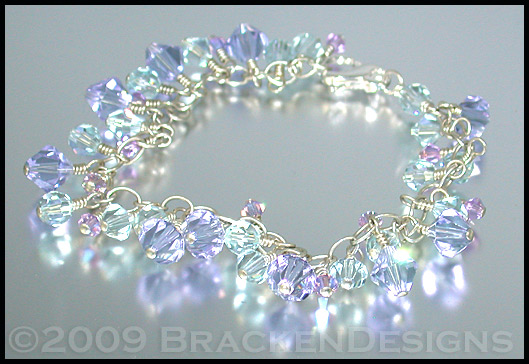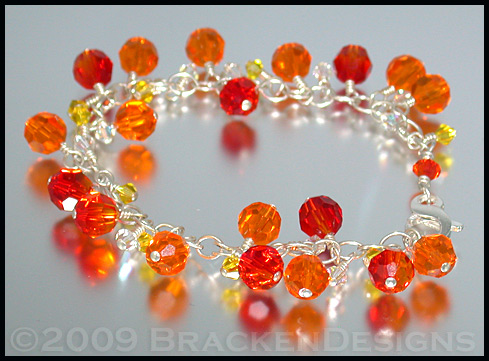 http://www.brackendesigns.com or just click on one of the bracelet photos.
I'll have more to show soon… back to listing now.
TTYL!