So, here's the first batch of jewelry made using my current stash of beads…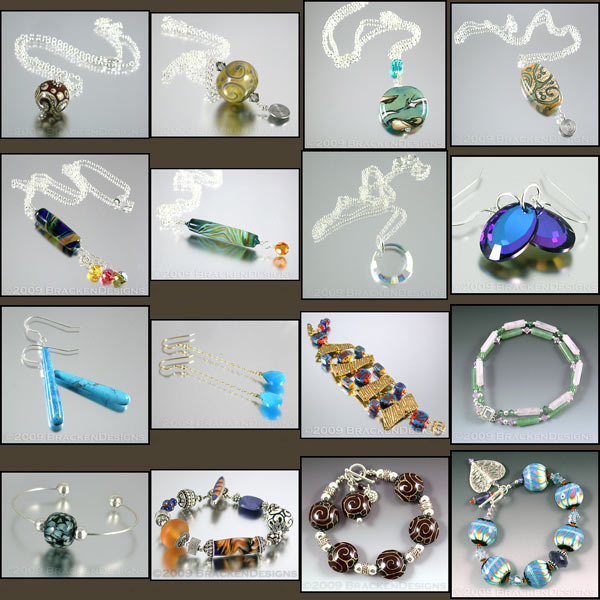 These are all (except one bracelet that already sold) available at
BrackenDesigns
.
I have one more piece to list. It's one where I actually made the component (the pendant)…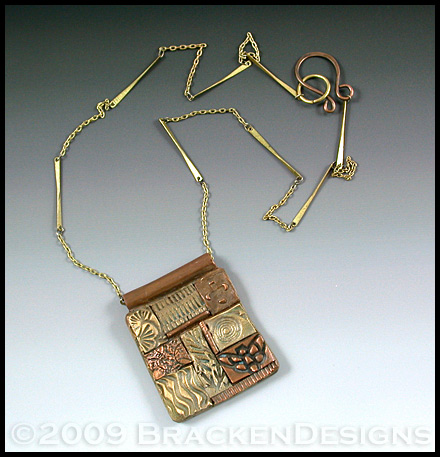 ... also, the clasp is a refurbished earring. I didn't have any brass or copper clasps (or wire), so I took an old earring, cannibalized it, and tada!
In a couple hours, I'll be at a large bead/gem show in Santa Clara… There will be some suffering (a bead ho unable to buy beads), but I will stick to my purpose. I must not be a bead glutton merely out of desire. I'm going for two reasons. One, I meeting up with my good friend, Alex. Love spending time with her! And two, I'm looking for a particular kind of bead for a friend who can't get them where she is.
At Hadar's Friday night, I made some tube beads. They didn't all come out of the kiln the way I wanted (y'know… perfect), but two of them are pretty cool so I took those two, buffed 'em up a bit, and am making them into earrings. I hope to have photos to show you later.
I also patina'd the recesses of a pendant I wanted to give Alex, but I just realized… it's bronze… bronze has copper in it. If she's allergic to copper, she probably can't wear bronze either. We'll she can hang it in her workshop as a decoration maybe.
Okay, Bear's giving me the evil eye so I'd better take him out for his morning walk. I'll report back later about how the bead show was. TTYL!