LASER-CUT METAL
I saw a listing on Etsy today that caught my eye. I was impressed with how someone could sell such a meticulously cut out piece of metal for such a small amount of money. I mean, first you design the piece, then you have to saw the parts out that get removed, then you file and sand and polish. But in the description, it said it was laser cut.
This confuses me. Are machines that can cut a given pattern via laser readily available to the common man now or was this person just using a component they purchased somewhere?
WHERE DID ALL MY FAVORITE SELLERS GO?
Anyway, this week, some of my time was spent in market research. I had already known that many (okay most) of my favorite eBay sellers were not selling anything and probably haven't been for awhile. If I go to someone's eBay listings and they have nothing listed, it's usually a while before I go back.
What surprised me, however, was the high number of my favorite Etsy sellers whose stores are empty.
Have a lot of jewelry sellers just stopped trying to sell or have they gone somewhere I'm not aware of?
NEW JEWELRY
I have some new stuff, but listing is a slow process… particularly when I'm watching Sense and Sensibility at the same time. So far I only have two bracelets up.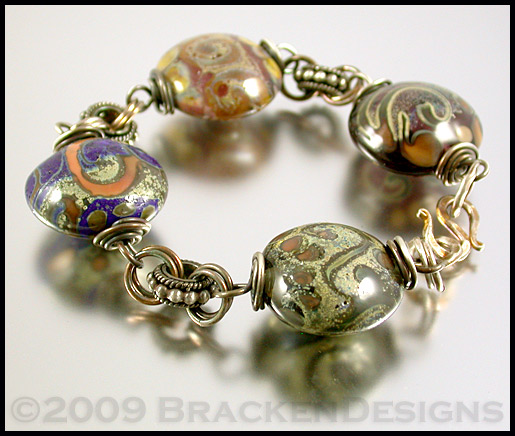 And…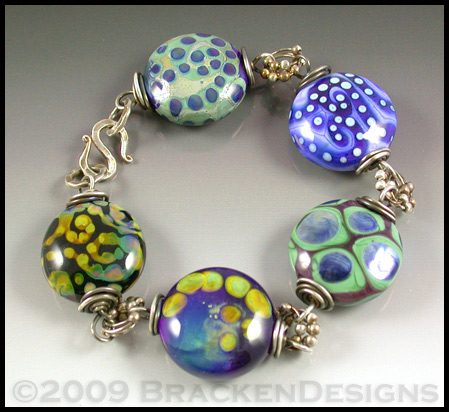 DARTMOUTH
I (finally!) made the flight arrangements to Dartmouth. When I saw the sketch of the airplane during the "choose your seats" part of the process, I admit I considered backing out. Flying! *shudder*.
I even went so far as to rent a car for the week. No hotel yet… can't do it all in a day. Heh
We're flying in to Boston, then will drive for 2-3 hours to Hanover. I'm not rushing us. Gave us plenty of time on each side of going and returning in order to pretend this is a vacation.
MOVIES
Mon and I watched Slap Shot (I'd never seen it). I wasn't impressed. We watched something else (that I wasn't impressed with), but I don't recall now what it was. Oh yeah (I cheated… and looked at our NetFlix queue)… Wuthering Heights. There was no one in that movie to sympathize with. Blah! A movie entirely about self-centered people.
Well, now I have to go pick some new ones.
TTYS!